About Det 030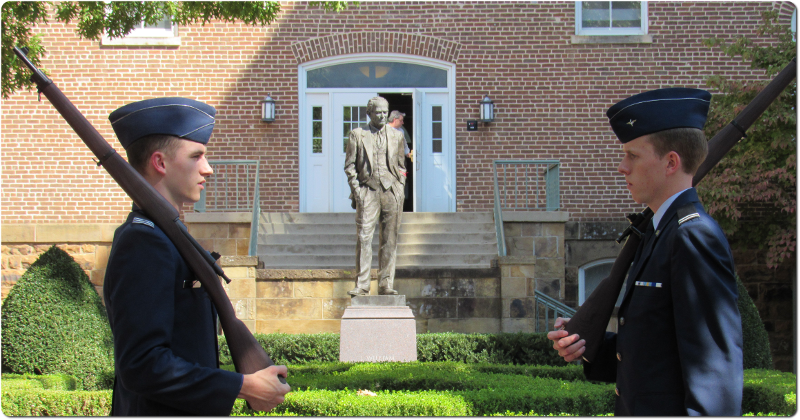 Core Values
Core Values are what we live by and learn to cherish. The Core Values are much more than minimum standards. They:
Remind us what it takes to get the mission done.
Inspire us to do our very best at all times.
Are the common bond among all comrades in arms.
Are the glue that unifies the Department of the Air Force and ties us to the great warriors and public servants of the past.
INTEGRITY FIRST:
Integrity is a character trait, a willingness to do what is right even when no one is looking. It is the moral compass, the inner voice, the voice of self-control and the basis for the trust imperative in today's military. Integrity is the ability to hold together and properly regulate all of the elements of one's personality. A person of integrity acts on conviction, and controls impulses and appetites.
Integrity also encompasses these moral traits indispensable to national service:
Courage
Honesty
Responsibility
Accountability
Justice
Openness
Self-respect
Humility
SERVICE BEFORE SELF:
An Airman's and Space Professional's duties always take precedence over personal desires. At the very least, it includes the following behaviors:
RULE FOLLOWING

To serve is to do one's duty, and our duties are most commonly expressed through rules. While it may be the case that professionals are expected to exercise judgment in the performance of their duties, good professionals understand that rules have a reason for being - and the default position must be to follow those rules unless there is a clear, operational reason for refusing to do so.
RESPECT FOR OTHERS

Service before self tells us also that a good leader places the troops ahead of his/her personal comfort. We must always act in the certain knowledge that all persons possess a fundamental worth as human beings.
DISCIPLINE AND SELF-CONTROL

Professionals cannot indulge themselves in self-pity, discouragement, anger, frustration or defeatism. Airmen and Space Professionals have a fundamental moral obligation to the persons they lead to strike a tone of confidence, and forward-looking optimism.
EXCELLENCE IN ALL WE DO:
Every American Airman and Space Professional strives for continual improvement in self and service. Excellence in all we do directs us to develop a sustained passion for continuous improvement and innovation that will propel the Department of the Air Force into a long-term, upward spiral of accomplishment and performance.
The roots of the ROTC program at the University of Arkansas reach back more than 150 years. In 1862, the Morrill Act required land-grant colleges to offer courses in military training. Building on the Morrill Act of 1862, the National Defense Act (NDA) of 1916 created a formal Reserve Officer Training Corps (ROTC). The program as we know it today is founded on the NDA.
The years following World War II were a time of reorganization and variation for ROTC.
September 1947, the United States Air Force was established as a separate and equal element of the United States armed forces; and quickly established its own identity.
September 1947, a Department of Defense order transferred all units and personnel of the Army Air Forces, including Air ROTC, to the United States Air Force. Army Air Fields were renamed Air Force Bases and personnel were soon being issued a sassy new uniform.
December 1947, Headquarters United States Air Force (USAF) announced plans to merge the Air Defense Command and Tactical Air Command to form a super command--the Continental Air Command (ConAC).
December 1948, the reorganization was complete and intended to strengthen the air defense and close air support missions.

All tactical fighter resources, including active, reserve, and guard personnel, were now under a single commander. Besides its "flying and fighting missions," the ConAC also gained along with Air Defense Command the responsibility for what was now termed Air Force ROTC.
University of Arkansas chose to incorporate Combined Services ROTC Program and included Infantry, Signal, and Air Corps branches into the fold.
March 1949, Air Corps became Air Force ROTC, achieving equal status with Army ROTC at the University of Arkansas.
Since the establishment of Air Force ROTC, the University of Arkansas, and cross towns at John Brown University, North West Arkansas Community College, and University of Arkansas Fort Smith, have contributed to the education and commissioning of over 1000 students.
DISTINGUISHED GRADUATES FROM THE PROGRAM
GENERAL
General (Ret.) Horace M. Wade – Bachelor of Science in Business Administration (1948)
LIEUTENANT GENERAL
Lieutenant General (Ret.) Richard C. Harding – Bachelor of Science (1975), Juris Doctor (1979)

Lieutenant General Bradley A. Heithold – Bachelor of Science in Physics (1981)
MAJOR GENERAL
Major General (Ret.) Arthur G. Salisbury – Graduated from University of Arkansas Law School (1939)

Major General (Ret.) William P. Bowden – Bachelor of Science (1954)

Major General (Ret.) James H. Bassham – Bachelor of Science of Accounting (1963)

Major General (Dr.) (Ret.) Walter John Giller Jr. – Bachelor of Science in Mathematics (1963) – Doctorate of Medicine (1967)

Major General (Ret.) Robert W. Chedister – Bachelor of Science in Electrical Engineering (1972)

Major General (Ret.) Kenneth R. Israel – Masters of Science in Systems Management (1972)

Major General (Ret.) H. Hale Burr Jr. – Master of Arts in International Relations (1973)

Major General (Ret.) Betty L. Mullis – Masters of Science in Operations Management (1982)

Major General Carlton D. Everhart II – Masters of Science in Business Management (1989)

Major General (Ret.) Richard C. Johnston – Masters of Science in Operational Research and Business Management (1989)
BRIGADIER GENERAL
Brigadier General (Ret.) Francis A. Humphreys Jr. – Bachelor of Arts (1949)

Brigadier General (Ret.) Travis E. Harrell – Bachelor of Science in Education (1964)
Brigadier General (Ret.) Harold H. Rhoden – Bachelor of Science in Business Administration (1965)
Brigadier General (Ret.) Bernard K. Skoch – Bachelor of Science in Industrial Engineering (1974)
Brigadier General (Ret.) Randy Witt – Master of Arts in International Relations (1974)
Brigadier General (Ret.) Kenneth R. Johnson - Masters of Science in Management (1975)
Brigadier General (Ret.) Daniel B. Fincher – Bachelor of Science in Business Administration (1977)
Brigadier General (Ret.) Howard J. Ingersoll – Master of Science in Industrial Engineering (1978)
Brigadier General (Ret.) Steven J. Redmann – Masters of Science in Operations Management (1980)
Brigadier General (Ret.) Dan R. Goodrich – Masters of Science in Operations Management (1982)
Brigadier General (Ret.) Bruce E. Burda – Masters of Science in Operations Management (1984)
Brigadier General (Ret.) Bradley R. Pray – Master of Science in Operations Research (1986)
Brigadier General (Ret.) Dennis P. Ployer – Masters of Science in Operations Management (1987)