AFROTC Program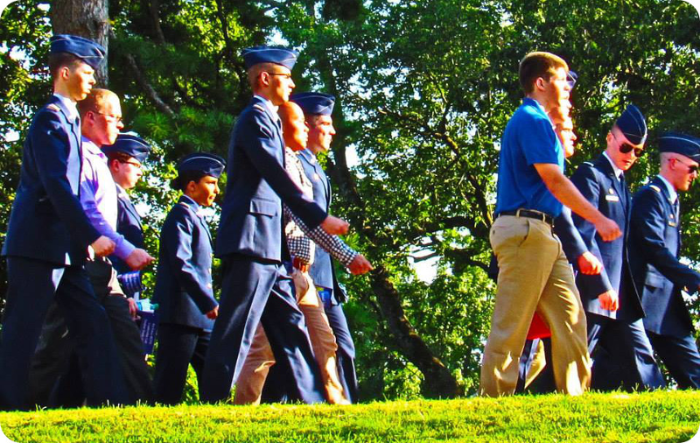 OVERVIEW
Air Force ROTC is just like any other college course—it has its own admissions requirements. Since we offer a wealth of real-world leadership experiences and the opportunity to earn a commission as a Department of the Air Force Officer, you will need to meet some additional requirements as you progress from the General Military Course to the Professional Officer Course (POC ). Scholarship applicants and recipients must also meet requirements specific to the scholarship for which they are applying.
FOUR YEAR PROGRAM
During the first two years, cadets attend General Military Course which consists of one hour classroom work, two hours of leadership laboratory, and three hours of physical conditioning each week.
Upon successful completion of the first two years, cadets compete for entry into the last two years of the program, the Professional Officer Course (POC). After being selected, cadets must successfully complete a four-week summer field training unit at Maxwell Air Force Base before entering the last two years of the ROTC program. The POC selection systems uses the following qualitative factors to determine a student's officer potential:

Grade-point average
Unit commander evaluation
Aptitude
Physical fitness test scores
In the POC, cadets attend class three hours a week, participate in a two-hour weekly leadership laboratory, and perform three hours of physical conditioning per week while applying what they have learned in the General Military Course and at field training. POC cadets conduct the leadership laboratories and manage the unit's cadet corps.
Each unit has a cadet corps based on the Air Force organizational pattern of flight, squadron, group, and wing. Classes are small, with emphasis on group discussions and cadet presentations. Classroom topics include leadership, communication skills and national defense policy. Once enrolled in the POC, all cadets are enlisted in the Air Force Reserve and assigned to the Obligated Reserve Section.
CURRICULUM FOR AIR FORCE ROTC CADETS
AIR SCIENCE (AS) CLASS
Each year of the four-year program has one level of Air Science lecture courses. Typically, the freshman and sophomore courses are one credit hour each while the junior and senior courses are three credit hours each.
LEADERSHIP LABORATORY (LLAB)
Cadets meet once a week for two hours to complete this requirement. The lab is broken into two different levels. During the lab environment, the General Military Course cadets (freshman and sophomores) are trained by the POC cadets (juniors and seniors) on various topics such as, drill and ceremonies, customs and courtesies, dormitory procedures, small unit tactics, and fellowship.
The POC cadets plan and execute the required training objectives each week, so their piece of the puzzle takes a vast amount of coordination and discipline.
PHYSICAL TRAINING (PT)
Cadets meet two times a week for an hour to meet the PT requirement. Physical training is offered three times a week on Monday, Wednesday, and Friday throughout the semester. We spend this time preparing/training our bodies to meet and exceed physical fitness standards. Workouts are typically dynamic in nature and can include intense levels of both aerobic and anaerobic workouts.
OFFICER OPPORTUNITIES
Air Force ROTC prepares you to become an Air Force or Space Force Officer, which carries a high level of responsibility, accountability and professionalism. The education, leadership, and management experience you will gain in your chosen field, combined with an undergraduate degree, is sure to prepare you for a promising future in either the Air Force, Space Force, or the business world.
A graduate from the University of Arkansas Air Force ROTC program places one into a management-level position within the Air Force or Space Force, giant leaps ahead of your non-ROTC college peers. Learn more about the various Air Force Career Opportunities.