Why Arkansas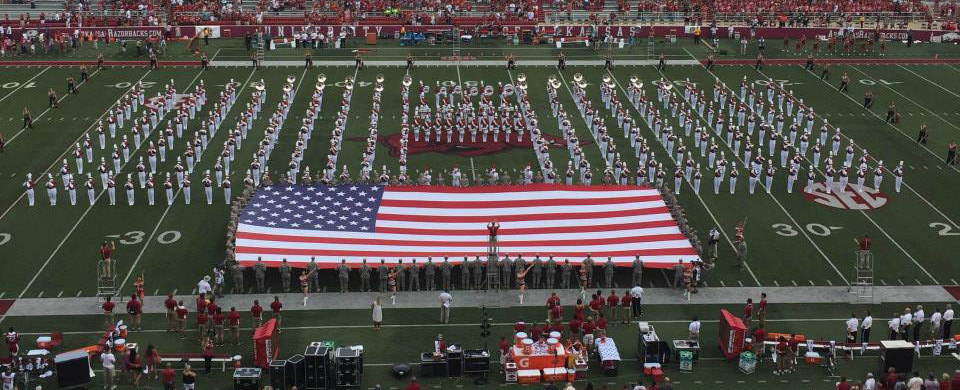 The University of Arkansas
Detachment 030 is hosted by the University of Arkansas, Fayetteville Arkansas. With over 24,500 students and more than 4,200 faculty and staff, the University of Arkansas is the state's largest and most distinguished institution of higher learning. Founded in 1871 under the Morrill Act, the institution is both the major land-grant University for Arkansas and the state university. The institution is Arkansas' only major research university. It is classified by the Carnegie Foundation for the Advancement of Teaching as a research institution with "high research activity." As such, it ranks within the top 10 percent of research universities nationwide. The University offers more than 200 undergraduate and graduate degree programs in nine schools and colleges. More than 25 percent of all students earning undergraduate degrees in the state receive them from the University of Arkansas. Nonetheless, small classes are the norm. In nearly three-fourths of all undergraduate classes, there are 29 or fewer students.
Universities nearby
Benefits for Cadets
A chance to earn a Commission in the World's Greatest Air Force and a well-paying job straight out of college
An environment where you are challenged physically, mentally, and emotionally
Camaraderie with other cadets and cadre
Opportunities to earn Room and Board Scholarships
Ability to present the colors at University or Arkansas sporting events and at other events and venues
Chances to get involved in Community Service
Extracurricular Activities
Fayetteville and Northwest Arkansas
"The beautiful and historical city of Fayetteville is the center of everything that happens in Northwest Arkansas. Surrounded by the Ozark Mountains, natural beauty is something you come to expect when you're here. Fayetteville offers the small-town feel that Arkansas is known for, while always having something exciting going on.
Fayetteville continues to be recognized by national business magazines and quality of life publications for its extremely healthy economy. Northwest Arkansas is bustling, with three of Arkansas' top five employers—Wal-Mart, Tyson Foods and J.B. Hunt—headquartered less than a half-hour drive from Fayetteville. The result of this economic picture is business success and top-notch living conditions for the town's current estimated population of 73,580. People get an education, start a career, enjoy the outdoors or just have a great vacation here.
Fayetteville is located in Northwest Arkansas, only 25 miles from Missouri and 20 miles from Oklahoma."
It is also only a 2 hour drive from Tulsa, OK, 2.5 hours from Springfield, MO, and 3 hours from Little Rock, AR.
(Text from experiencefayetteville.com)
"The appearance of hyperlinks does not constitute endorsement by the U.S. Air Force of non-U.S. Government sites or the information, products, or services contained therein. Although the US Air Force may or may not use these sites as additional distribution channels for Department of Defense information, it does not exercise editorial control over all of the information that you may find at these locations. Such links are provided consistent with the stated purpose of this website."